DebtAware's programme was originally based on a partnership with secondary schools and their satellite primaries.
Our starting point was an absolute conviction that children should develop sound and sensible attitudes towards handling money – and that these attitudes are formed before they leave primary school.
The core model, developed with Southlands High School in Chorley, was based on two simple ideas:
younger children are keenest to learn from their older brothers and sisters, and
teenagers remember what they enjoyed doing at primary school.
Our secondary students' first idea was to write a series of Money Diaries, illustrating just how young people can be affected by bad money management – their own and their parents'. These diaries form the centrepiece of our money management lessons, and always a great success with primary pupils.
They then development lesson plans, based on the messages in the diaries and using their own experiences and interpretations of good money management practice.
They designed bright PowerPoint presentations, supporting exercises and follow-up tasks so that primary class teachers could reinforce the lessons.
And they have written and performed in short videos to illustrate the messages.
Now any secondary school can receive training to deliver lessons to their local or linked primary schools, with all resources free and already in place.
What's in it for the secondary students?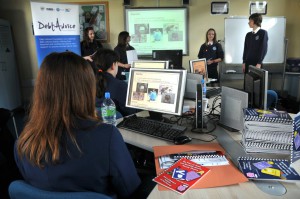 Firstly, of course, the students who train as Money Mentors learn excellent money management for themselves.
Their confidence and communication skills blossom as they work on teaching plans and then work with primary pupils in the lessons.
"Involvement as a Money Mentor makes a significant contribution to a school's Gifted and Talented and Pupil Leadership programmes.
"The programme gives the students other opportunities too; our money mentors have presented to MPs, conferences, financial education experts and in front of TV cameras. All of which looks very good on their CVs."
Neil Birmingham, Head of Maths Faculty, Southlands High School, Chorley
How does it work?
In order to achieve consistency in the programme, we have put in place formal standards towards which secondary schools work, and which must meet in order to be an accredited DebtAware Money Management school.
Each secondary school will have an appointed member of staff who acts as co-ordinator of the programme in their school, and approximately 20 students, usually aged 14, will become trained as Money Mentors.
DebtAware trains the students in the content and delivery of each of the lessons and will work with them when they deliver their first lessons. There will be one key lesson delivered each term, with a number of extension tasks available to develop and enhance the main theme of the key lesson.
The school co-ordinator also supports the Money Mentors as they deliver the lessons to their primary schools, and is responsible for arrangements with their primary schools.
The co-ordinator also arranges for evaluation responses to be fed back to DebtAware.
What do others think of the programme?
You will find comments about the programme by pupils, teachers and others here.
Our favourite comments?
"The lessons delivered from Debt Aware are an essential part of our curriculum. Skilling our children as to how debt can have a negative impact on family life is very important. The tasks the children are given are age appropriate; moreover, they encourage the children to think independently. Some of the best writing I have ever seen from Year 6 pupils followed the James' diary extract. The children are always engaged and enthusiastic in every session. I would have no reservations in recommending Debt Aware – a superb service." Jonathon Berry, Assistant Headteacher, Avon Primary School, Darwen

"The Money Mentor programme provides a wide range of opportunities for our students. As well as allowing them to reflect on their own understanding of money management, it provides talented students with the opportunity to work independently and become quite resourceful. They respond enthusiastically to the challenge of teaching the lessons. The levels of responsibility and maturity they demonstrate in their relationships with the primary schools students is truly uplifting." Dave Goulden, History Teacher and DebtAware Coordinator, Southlands High School